| | | | | |
| --- | --- | --- | --- | --- |
| [ | mood | | | fucking scared | ] |
okay yesterday i learned about the scariest fucking thing i've ever heard of in my whole life- CHEMTRAILS. have you ever looked up in the sky and seen long cloud-like things that look like the trail a rocket ship leaves behind when it's launched "into space"? like this: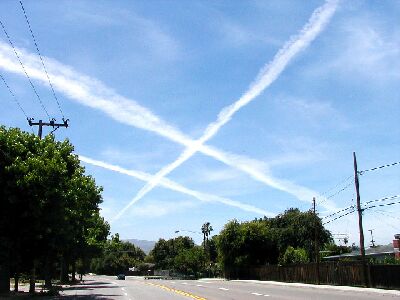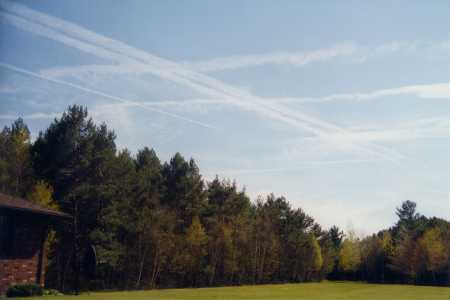 GO OUTSIDE AND LOOK UP, THEY ARE IN THE SKY ABOVE YOU. THEY ARE IN THE SKY ALL OVER THE WORLD. THEY'RE NOT CLOUDS. THEY'RE CHEMTRAILS.
chemtrails are NOT contrails. they're both by-products of airplane exhaust but they're two totally different things. contrails are trails of condensation and pollution left by planes as their hot engines travel through the cold atmoshphere. they fade as the plane moves on. chemtrails are trails of poison (toxic heavy metal ions like barium that cause respiratory diseases and destroy the immune system, not to mention the rest of the planet) that are deliberatly sprayed from planes and don't go away. instead of getting smaller over time, they branch out and drop feathers.


the thinner chemtrails in this picture are newer. the wider ones (right side of picture) are older. when a lot of chemtrails are sprayed in one area, they eventually overlap each other, creating a haze. a haze of poison. it's pretty self-explanitory how that's really fucking bad. chemtrails are pretty obvious themselves, all you have to do is go outside and look up. they are right there above you. the scary thing is that most americans are so braindead they will never do that. but all you have to do is fucking LOOK UP and you can't deny their existence.
chemtrails have been around since the 60s, but have only recently (past 5-6yrs, reign of the bush reich) been appearing in mass quantities. WHY? because chemtrails are the product of a military project named OPERATION CLOVERLEAF. the military is testing weapons on us without our consent, without most peoples' knowledge. the air force sprays them from high-altitude military jets (KC-135s, KC-10s, and unmarked white jets).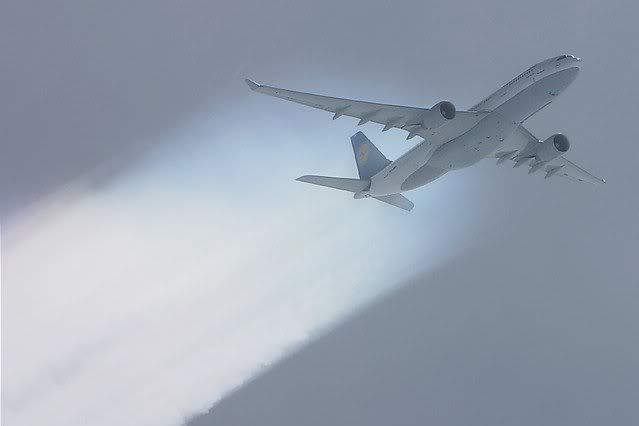 WHY? there are a few purposes for which the military/government/corporations are using this deadly technology.
1. WEATHER CONTROL
the haze that overlapping chemtrails create is made of plasma. plasma is electrically-charged particles that's not a solid, liquid, or gas. it's a completely different type of matter. and the government's scientists can create this plasma and harness it's energy. they are creating a new, contaminated, electrically charged plasma atmosphere by creating a plasma sheild over our earth. this gives them the power to control the weather, which gives them the power to control the whole world. hurricanes katrina and rita and the recent tornado devastation in tennesee were probably not freak accidents. chemtrails are also the reason half the u.s. and half the world has been in a drought for the past two years. do you know what a drought means for the price of food and other necessities that should be free but instead the government/corporations rob from us and capitalize on? cha-ching. in 1997, insurance companies paid $92 billion in weather disaster claims. edward teller (inventor of the hydrogen bomb) stated that his weather modification program would cost only $1 billion per year. another government motive for weather control brings me to the next reason for operation cloverleaf.
2. BIOLOGICAL WARFARE
first of all, it's the perfect military tool. how fucking disgusting is it that the military industrial complex has harnessed the weather as a "tool" for human use. the rest of the world is already enslaved for human (western/american) use and consumption. it's fucking disgusting, which makes it the perfect weapon. it can't be defeated. you can't fight the weather, you can't escape harsh weather conditions. how sickeningly convienent is it for fascist mass-murderer george bush to push a button on a keyboard from the luxury of his texas ranch and drop a tornado in the middle of falluja? it worked for them in new orleans.
secondly, the government/corporate/military industrial conglomeration complex is preparing for biological attack on america. to them it's not a matter of "if" but when. the plasma haze is nothing more than a battlefield for war games.
3. POPULATION REDUCTION
they've murdered millions of people overseas, along with thousands of american soldiers, what the fuck makes you think they care about your life? operation cloverleaf is a means to reduce the earth's population to a support level for the elite few. operation cloverleaf is a genocidal project of the NWO to exterminate society's "useless eaters". in other words the poor, elderly, young, and those already weakened by disease. the toxins in chemtrails are poisoning us, weaking our immune systems, and causing diesase (respiratory problems, cancer, allergies). respiratory disease is the third leading cause of death in this fucked up country. it's in the air we breathe everyday, which is the same air that the trees breathe and the food we eat breathes before it becomes food. it's in everything and it's making us sick and killing us off. GENOCIDE IS HAPPENING IN THE UNITED STATES OF AMERICA, IT'S HAPPENING ALL OVER THE WORLD. of course, this is the last thing the majority of the american population would ever believe. even though it's right in our faces (LITERALLY, LOOK UP), most people remain ignorant because it's a slow process. if chemtrails appeared overnight and there was a sudden die-off, of course people would fucking notice. but because chemtrails have slowly been surfacing over the past 40+ years, we don't think anything of them. they're "normal clouds" to us because they've slowly become a part of our everyday lives. they appear in the background of stamps, photos, and major motion pictures. if you're around my age, you've never seen a real sky. how fucking sad is that.
HOW THIS IS NOT A CONSPIRACY
it's pretty hard to believe operation cloverleaf is just a "conspiracy" when corporations have already been making new developments for beach condos and other sources of capital in new orleans. it's hard to dismiss this as a "silly little conspiracy theory" when nothing adds up. what does the government say about this? they don't, they deny the existence of chemtrails, claiming they're "just contrails" but with all the staggering evidence supporting that lie, we know that's bullshit. the (bush-appointed) EPA also refuses to acknowledge their existence and investigate. this is a real live statement from the EPA: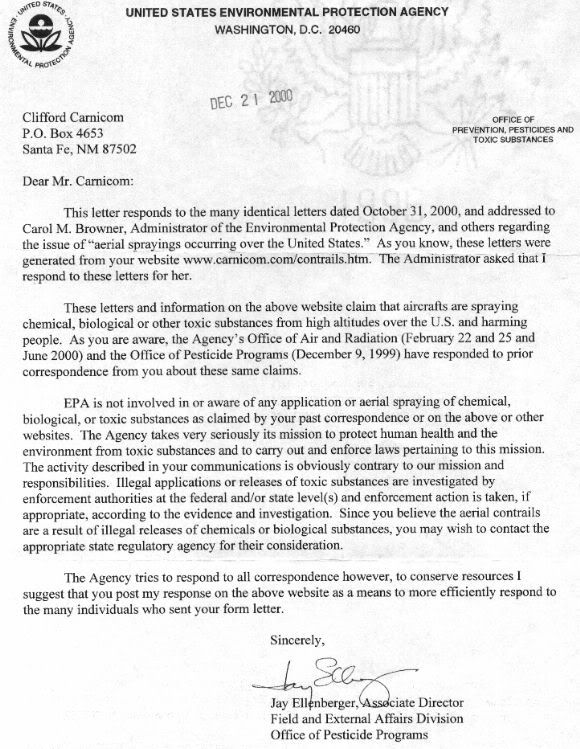 WHAT CAN WE DO?
nothing, except feebly try to protect ourselves while these fucking psychopaths manipulate the air we breathe and destroy the planet. the best way to fight infection by chemtrails is to be healthy. be in shape and make sure you get all your vitamins. taking supplements of collodial silver (can be found in health food stores) has been found to counteract the heavy metal toxins in our bodies.